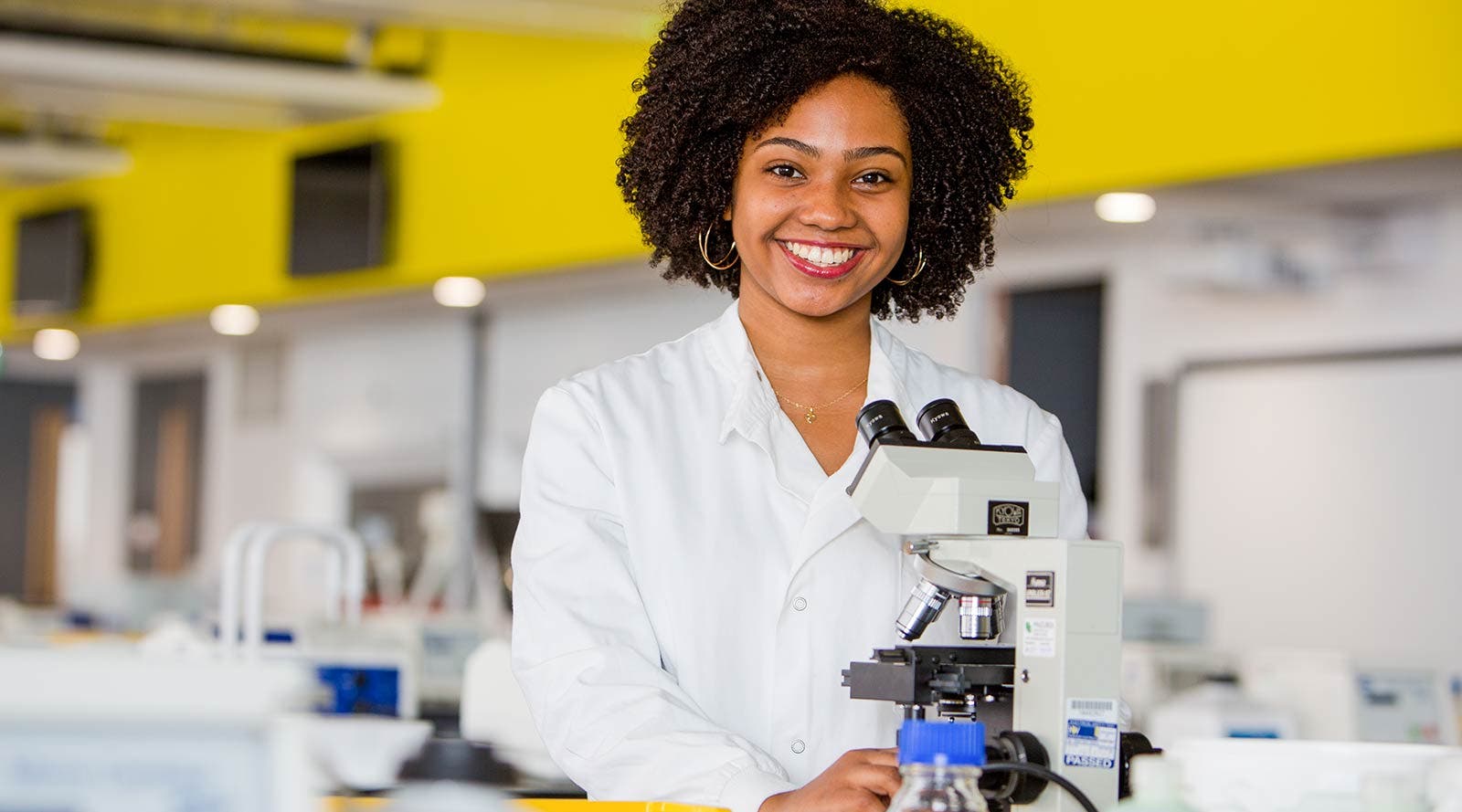 International Foundation Year in Life Sciences
The International Foundation Year in Life Sciences leads to a choice of degrees in the Faculty of Health and Medicine and in the Faculty of Science and Technology. To prepare for your degree, you will study subject modules and core English language modules. Degree options include Biochemistry, Biomedical Science, and Ecology.
Is this programme for me?
Life sciences is an exciting and varied subject that can lead to many degrees and careers. If you want to learn more about this subject whilst studying in a top-ranking UK university, this pathway will help you develop the skills you need to succeed.
You will learn about cell structure and function, as well as physiological processes in animals. Other areas of study include plant biology, genetics and ecology. Mathematic techniques are part of the course, and you will apply your understanding to real-life situations.
What will I study?
You will study core modules within the International Foundation Year programme alongside subject specific modules designed to help you on your degree.
Core modules focus on your English language and university-level study skills. At the end of the programme you will feel confident in taking notes, writing essays, giving presentations, and contributing to discussions. Study areas include:
Academic English Skills
train your language and related academic skills
develop the accuracy and range of your written and spoken language
your studies will be supported by an online learning platform to develop and extend your language and academic skills outside the classroom
Academic English programme is validated by UK ENIC, the UK government agency responsible for providing information and expert opinion on qualifications and skills worldwide.
Project and research skills
a self-study project related to your undergraduate degree
completed over two terms.
Subject-specific modules give you the academic knowledge and confidence you need to progress to your chosen degree.
Study areas include:
Core Mathematics
Algebra
Statistics
Understanding mathematical terms and techniques
Problem solving in real-life situations
Cell Biology
Biological molecules
Cellular structure
Cell division
Movement through cell membranes
Enzymes and metabolic pathways
Physiology
The cardiovascular system
The respiratory system
The digestive system
Osmo-regulation
Control and co-ordination
Reproduction
Chemistry 1 & 2
Formulae
Equations and moles
Atomic structure
Introduction to redox systems
Thermodynamics and bonding
Equilibria
Acid base equilibria
Kinetics and organic chemistry
Further studies in Biology and Chemistry
Genetics
Ecology and plant biology
Inorganic chemistry
Oxidation/ reduction reactions
Transition element chemistry
Study plans
Why study the International Foundation Year in Life Sciences at Lancaster?
4th in the UK for Biomedical Sciences (Guardian University Guide 2023)
13th in the UK for Chemistry (Guardian University Guide 2023)
5th in the UK for Physics (Guardian University Guide 2023)
Progressing to your degree
You will progress to your chosen degree when you have completed the International Foundation Year and achieved the grades you need.*
Life Sciences faculties
Depending on the subject you choose, you will study for your undergraduate degree in either the Faculty of Health and Medicine or the Faculty of Science and Technology at Lancaster University. Lancaster University invested more than £26 million in its Chemistry facilities and equipment.
Degree options
You can choose between more than 35 different Life Sciences degrees at Lancaster. Your degree options include Biochemistry, Psychology, Environmental Science, and Ecology and Conservation.
To see all degree options, visit our progression degrees page.
Why join this November?
Join us in November and stay on track to progress to your degree in September 2023.
By starting the 3-term International Foundation Year in November, you will benefit from three additional weeks of study and life skills before commencing your main pathway programme in January 2023. There will be no additional tuition fee for this period, and this will provide you with a great opportunity for an enhanced student experience focusing on three key areas: orientation; practical support and academic and digital skills. Topics will include a digital skills health check; managing your money; practical tips on finding study and life balance; and an introduction to assessments in UK higher education.
What will I study in the additional three weeks?  

You'll benefit from a 15-hour per week face-to-face classes, allowing you to:
feel more confident and better prepared for the start of your January programme of study
practice your English by interacting with the fellow students and build friendships
assess your own digital skills proficiency
meet the key Centre staff who will provide advice for success
familiarise yourselves with the support available
apply a range of academic study skills to meet your individual needs
have more time to adapt to the UK life and settle in before you begin your January programme.
Are there any additional cost or fees?
There will be no additional tuition fee, as November starts will have the same tuition fee as the respective January programme. However, there will be additional costs to consider, as expected with being in the UK for a longer period (i.e. accommodation). If you request accommodation on your application form, our Central Student Support Team will contact you directly in October regarding the options available.
* Please note the degree aim / selected degree path is not fixed or guaranteed. During your first term at the International Study Centre you will be asked to select three degree choices from progression list. You will receive a conditional offer, this offer will be made unconditional on successful completion of the course and on achieving the required progression grades.
Key facts
Course length
Three terms
Entry points
October, November and January
Visit our term dates page for specific dates.
Entry requirements
Visit our entry requirements page to learn more.
Fees
Visit our fees page to learn more.
Top rankings
11th in Biological Sciences
9th in Geography and Environmental Science
The Times and Sunday Times Good University Guide 2023
New November start
If you want to be better prepared for the start of your January programme of study, join us in November.